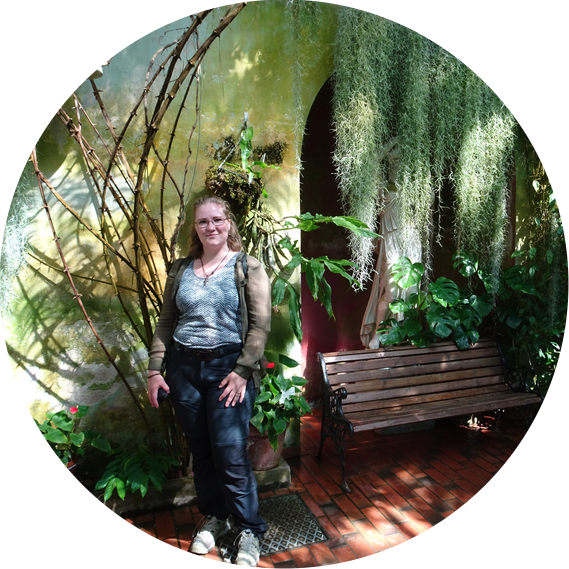 Artist's Statement

Exploring the relationship between man and nature has always been a very important element for my creating. Memories is the topic I constantly return to in my artwork. One of my goals is to help my environment to reduce their self-censorship. Artists, who aren't afraid of showing their inner selves, are the ones getting my attention.

My field of art includes photography, painting, design and poetry.

By frequently mixing different types of art materials, I allow myself to express different ideas. I have an aptitude for design and I am a multi-artist when it comes to the visual. Different types of packaging are important; the feeling of the material should always correspond to each project.

I was born in 1994 in Espoo, Finland. In the spring of 2017 I graduated as a photographer from Bachelor of Culture and Arts in Pietarsaari. I am based in Pedersore, Finland.


– Rebecca Enlund
Solo & duo exhibitions
2026: Upcoming: Kaupunginkirjasto, Pietarsaari
2024: Upcoming: 30 (private) / Värnum, Ähtävä
2022: Clarity / Rosenlunds prästgård, Pietarsaari
2021: Väntan / Kaffia, Pietarsaari
2020: Symbios / Galleri Bruno, Pännäinen
2019: Med Nya Ögon / After Eight, Pietarsaari
2016: Someone's Past / Café Fredrika, Pietarsaari
Stillhet / Café Fredrika, Pietarsaari
Öde/Väsen: Someone's Past, with Johanna Överfors / Galleri Bruno, Pännäinen
2014: 20 (private) / Haukilahti, Espoo
Group exhibitions
2023: Ongoing: MYCELIUM / Tempus, Pietarsaari
Home / Kaupunginkirjasto, Pietarsaari
2022: Shapes & Spaces / Musiikkikeskus, Pietarsaari
Glasgrön Himmel / Tupakkamakasiini, Pietarsaari
Kontrast / Kaupunginkirjasto, Pietarsaari
2020: Jakarte Årsutställning / Tupakkamakasiini, Pietarsaari
2017: FotoArtis Medlemsutställning / Kaupunginkirjasto, Pietarsaari
Suomi Laidasta Laitaan / Tupakkamakasiini, Pietarsaari
På väg: Efter regnet / Vaasa City Art Gallery, Vaasa
2016: Variations: Identitetslängtan / Campus Allegro, Pietarsaari
2015: Fenestra: Identitetslängtan / Northern Photographic Center, Oulu
Minoriteter i minoriteten: Anneli Söderdahl / Gallery GRO, Pietarsaari
2014: Artopus Festival / Old fire station, Pietarsaari
One Day This Will Be Funny / Café Fredrika, Pietarsaari
Year One / Pietarsaari
Membership

Art association Jakarte:
Member since 2020, Secretary of the Board since 2022
Education
2013 – 2017 Medianom BA, Media Culture
(Photojournalism and fine art photography)
Novia University of Applied Sciences, Pietarsaari
2010 – 2013 Media assistant, Audiovisual communication
(Photography, video and graphic design)
Prakticum Vocational College, Helsinki
Art books and prints

2017: Efter regnet, Photography and poetry book, Novia bachelor thesis
Suomi Laidasta Laitaan, Photography book, Novia group project & Fotoskolan STHLM
Ekorosk Kalender, Wall calendar (September photo), FotoArtis & Ekorosk
2016: Inside Milkhill, Photography book, Novia project
Beyond The News, Magazine, Novia group project & Rebecca Simons
2015: Someone's Past, Photography book, Novia project
Åre & Trollstigen, Travel book, Personal family project
Sejnäjoki Says Welcome, Advertising signs, Novia group project
Identitetslängtan, Mixed media and poetry magazine, Novia project
2013: Känslor, Photography and poetry book, Prakticum final work
2012: Så Olika, Amanda Oscarsson´s CD, Photography and design
Contact
rebeccajenlund@gmail.com
+358 50 4924690
View more artworks on my instagram: